Humans have not progressed as much as they believe since the feudal ages. Even today, we worship Lords and Kings as if they were god. The titles may have changed – we call them CEOs and Presidents and Ministers now – but their offices and functions are pretty much the same. And therefore, the injustices and inequalities, the oppressions and cruelties perpetrated, are pretty much the same. Humans believe they have the right to rule over us, simply because they said so.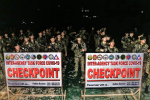 The Opportunism of Martial Law
In March 2020, the people of the archipelago known as the Philippines were alarmed at the rate of local transmission of the disease known as COVID-19. On March 12, police and military forces were mobilized to enforce a community quarantine for the whole of Metro Manila scheduled to start on the midnight of March 15. This quarantine was later generalized for the whole island of Luzon, a population of some 53 million souls. That the mobilization of the state's apparatus of violence was more noticeable than the mobilization of medical and social resources is telling of the administration's priorities.